Day 4
We woke up on the rainy Monday morning, packed our bags, grabbed quick breakfast, which was included in our hotel stay, jumped into rain gear and headed out of Quebec City. Our journey continued north-east towards Saint-Simeon, picturesque town on the shore of the great Saint Lawrence river. Our trip took us along the northern shore of the St. Lawrence: first we were on route 138 which was fun and pretty, but then we hit 362, and it blew us away. We had so much fun just riding: the scenery was beautiful, with mountains on the left and river on our right. Neither one of us have ever seen such a wide river, and it is very impressive. But I guess my dear readers are getting tired of my BS, so let' see some pictures.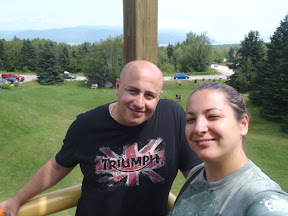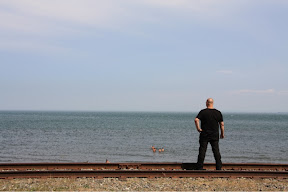 And some more views (specifically for my sister) from our hotel in St. Simeon
Then we went for dinner to a local gourmet restaurant (think stolovka) and decided to get some wine for the evening. Here is our after-dinner snack
Here is the map for the day
Day 5
The day started as usual, with a little bit of sun and clouds. We headed north on RT. 170 towards Saguenay Fjord and the beautiful scenic Fjord route. Our first stop, a little town called Petit Saguenay. We came across a bistro/art gallery and decided to get a breakfast. We were presented with some very artsy sandwiches.
We filled out tanks with fuel and continued our journey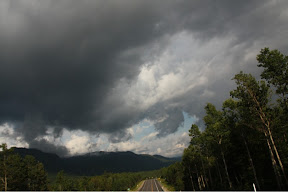 We circled around the fjord and finally arrived to the furthest point of our trip, town of Tadoussac.
Here is route of our trip for the day.